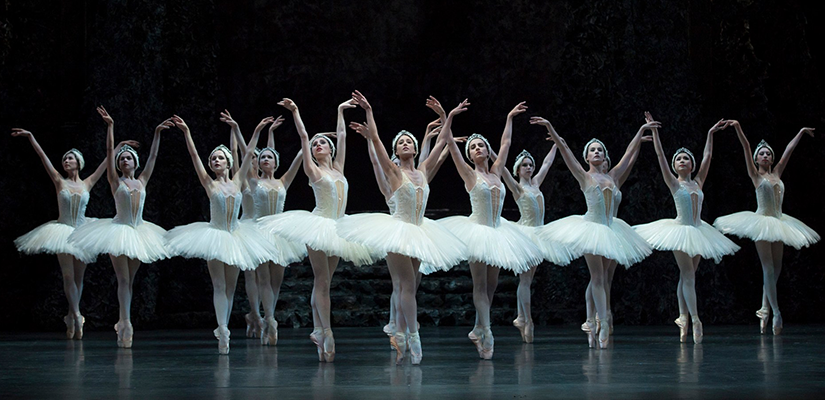 Approx. reading time:
4
minutes
Imagine paying good money to see the Birmingham Royal Ballet perform Swan Lake at Sadler's Wells, only for the dancers to be rooted to the spot throughout the performance. Static. Unmoving. You'd demand a refund.
In ballet, beauty springs from movement and choreographers think long and hard about how dancers use the full extent of the stage, where they position themselves in relation to one another and the audience and which steps to take – a pas de deux maybe or a pas de chat.
And so it should be in presentations, with speakers giving similar consideration to the choreography of their performances. Now I'm not suggesting for one minute that this means pulling on a pink tutu and sashaying across the boardroom floor but simply injecting some more modest, naturalistic movement into your presentation in a way that compliments your words – energises them even – rather than detracts from them.
Don't mess with my tutu
Too many presenters I've seen (or rather haven't) stay hidden behind the lectern throughout. And those who do show us their legs often pace nervously up and down an imaginary track and I end up worrying more about the carpet than I do listening to what's being said.
I get why presenters stay close to the lectern. It's where their notes are and, looking out at the sea of faces that is the audience, they fret that if they swim too far from this presentational lifebelt they'll end up drowning. Trouble is that, in a big auditorium in particular, the lectern is usually stage left or right which means you're closer to one side of the audience than the other. And while the extra distance between you and those opposite may not be an obvious distraction, subconsciously at least, it may leave those farthest away feeling somehow left out.
Mind the gap
And so it is with the people in the cheap seats at the back, again, of the bigger venues. They can feel ignored if you don't do something to literally or metaphorically close the gap between you and them. Literally closing the gap might mean coming down off the stage (with a radio microphone if the event is that big), walking along the aisle to the back of the auditorium and delivering a section of your talk from there. Metaphorical gap closers include spoken ones – "can you hear me alright back there?" – and unspoken ones such as making eye contact with people in all quadrants of the audience, not just those closest to you. A really good tip I was given years ago is to divide the audience into quarters (or sixths in bigger venues), pick a friendly face in each section (front left, front right, middle left, middle right, etc.) and make eye contact with them periodically. Because of something called parallax it appears as if you're looking at everybody in each section rather than just one.
Come out come out wherever you are
Now in order to feel comfortable moving away from that lectern or desk and your notes means weaning yourself off those notes, so I'll make that the subject of another post. But before that let's explore the consequences of too much movement.
Carpets have feelings too
I've written elsewhere about nervousness and posted a 10 point plan for tackling it. Suffice to say that when our mind is racing our body often follows suit. So we pace up and down. And for the audience it can be a bit like watching a game of tennis where we're the ball and their eyes swivel from left to right and back again ad nauseam which, in Latin incidentally, means literally 'to sickness.' Remember audiences (and carpets for that matter) have feelings so don't overdo the movement. With practice it'll become instinctive. Just as the movement does for those ballerinas.
Form and function
If too much movement can be distracting, it follows that the right amount can be attracting. What we should aspire to then is movement that is meaningful. Meaningful because it grabs the audience's attention; gives people a chance to move around in their seats (and so prevents deep vein thrombosis); adds value to your words. By adding value I mean that your movement is actually making a point. Let me explain by giving a real life example.
A Third Sector presentation I recently helped choreograph was designed to get people to stop and think about the scourge of rough sleeping. The words went something like this…
"You're walking down the street. It's like a minefield. You're navigating around other pedestrians who're paying more attention to their mobile phones than the pavement ahead. Picking a route that avoids the beggars who are up. And tip toeing past the rough sleepers who're down."
Now these words could have been delivered statically from behind a lectern. But I'd argue they had twice the impact because they were delivered while the presenter was walking along an imaginary pavement, the actions mirroring the words.
Actions speak louder than words
If you want your audience to stop and think about the point you've just made, stop and think yourself. If you want your audience to take action, be active. If your presentation needs a moment of reflection, of quiet contemplation, then slow down and stop. If you're excited, look excited. And, of course, sound excited. Which brings me on to a subject for a future post – musicology, or how to use your voice as a musical instrument and play all the right notes in your next presentation.