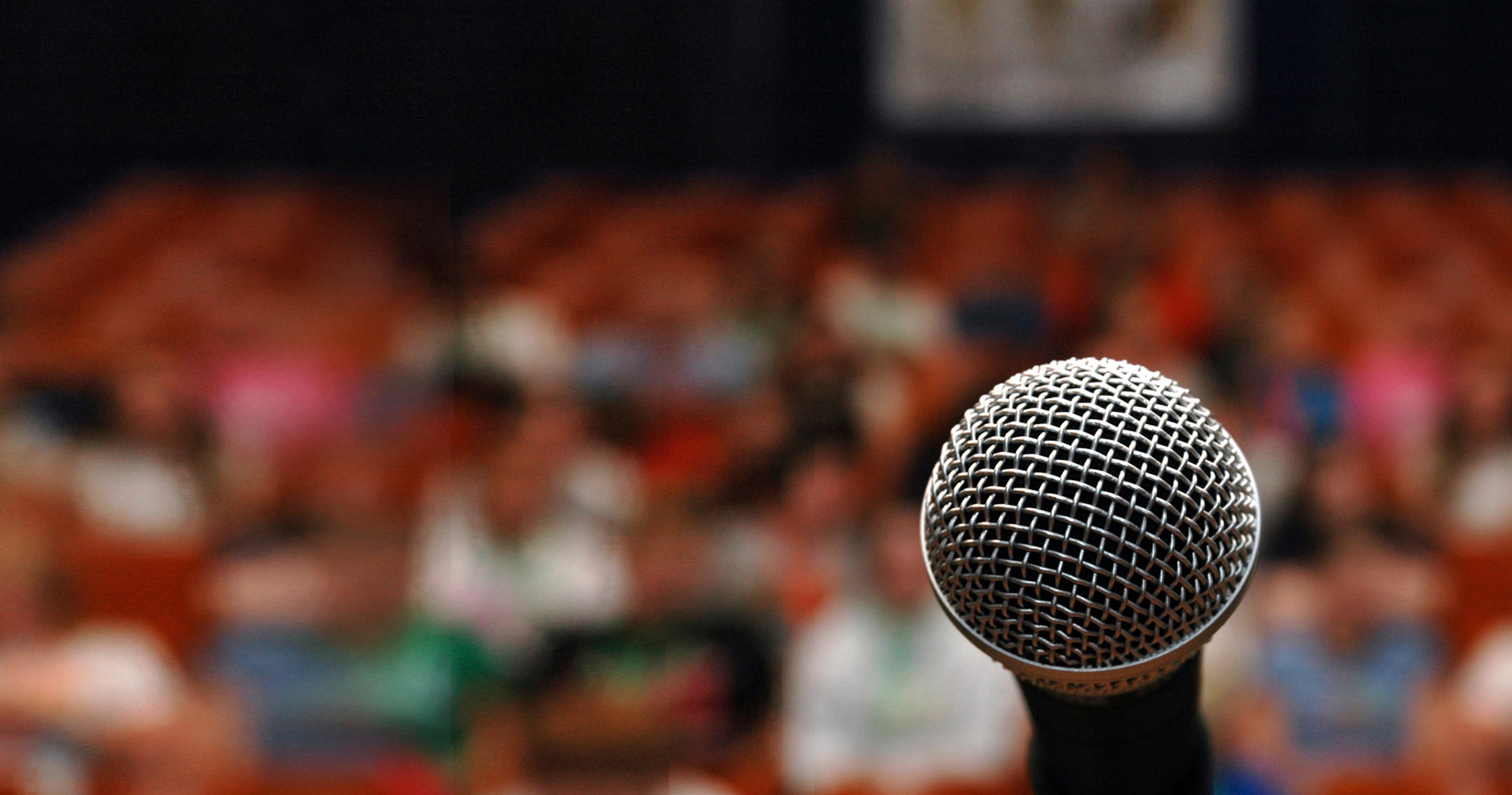 Approx. reading time:
8
minutes
So you've got to do a presentation. Stand up in front of room full of people and speak publicly. Admit it. Your legs are turning to jelly. Failure and ritual humiliation beckon. Sound familiar? Well join the club. We've all felt nervous at some time – even those who routinely present to millions of people on television and radio. And those who say they haven't are either big fat fibbers or dead from the neck up.
Nervousness is what tells us we're alive – along with a few other physiological niceties like breathing, of course. In fact nervousness and breathing are bodily bed fellows – if you're feeling the former it's more difficult to do the latter. To the point where you risk beginning your presentation with lungs as empty as if you'd just outstripped Usain Bolt in a hundred metre dash. And believe me I've been there. Not in a running race but in a mad, hyperventilating rush to get to the end of the opening sentence whilst reading the news. It wasn't even a long sentence come to think of it: "Hello, good evening…" So how can we say good night to our nerves?
Say hello to your nerves
Make a plan
Practice make perfect
Grow your confidence from a solid start
Focus on success
Breathe deeply
Speak slowly
Feed off the audience
Admit nothing
Share the load
Say hello to your nerves
Our minds move in a mysterious way. We begin by worrying about the actual presentation – let's call this the primary concern. Then we begin to worry about the consequences of a poor presentation. We imagine ourselves looking stupid in front of colleagues, being passed over for promotion or maybe even sacked. In effect this secondary concern doubles our worry. But hang on a minute. We haven't actually failed yet. We're not really on the platform looking at a sea of unforgiving and unfamiliar faces. It's just a bad dream. Make that a nightmare. In the dead of night we've snapped awake with a start, drenched in sweat. A bad attack of THE FEAR OF FAILURE! At this point we need to drag ourselves out of bed, go to the bathroom and have a long, hard look in the mirror. Give ourselves a cheer up smack. Say out loud: "I will succeed."
Now I know what you're thinking. He's beginning to sound like some whacky American lifestyle guru. What about us shy, retiring Brits who wouldn't say boo to a goose let alone "I will succeed" to a mirror? Okay here's the UK equivalent: "Hello mirror old chap. Awfully sorry to disturb you at this unearthly hour. Any chance I could have a quiet word with you? You see I've got this presentation to do. I don't mean to burden you unnecessarily with my troubles but…"
Look, whatever you say in your moment of reflection don't mention the word failure. Fear's fine. But put fear to work. Harness the fear. Channel the nervous energy into planning and the imagined dire consequences – the secondary concern – are much less likely to come true. So don't go back to bed. Start a plan.
Make a plan
Planning is so crucial to any nerve reduction strategy that it deserves a post all of its own and at some point I'll do just that. On my presentation and public speaking skills workshops I encourage delegates to think about the following steps:
Purpose – what do you want your presentation to achieve?
Audience – who's watching?
Context – where are you giving the presentation and what are the physical and intellectual  barriers to communication?
Content – what do you need to tell them?
Structure – what's the best order to communicate your content?
Style – what's the most appropriate style to communicate your content?
A good plan probably won't get rid of your fear entirely. But it can make the difference between the adrenaline-max version which makes us want to run away and the adrenalin-lite type whose purpose is to encourage us to stay and do a good job. Flight or fight.
Practice makes perfect
Done a plan but still feeling nervous? Nothing unusual there. They may feel the same, but what you've got now is a different type of nervousness. Not the disabling fear of failure that springs from a lack of planning but the enabling fear designed to get us to carry out our plan. Performance nerves not planning nerves. Actors plan well. They learn their lines. Do endless rehearsals. Yet they still get first night nerves. Sir Laurence Olivier and Barbara Streisand both suffered an extreme version of it called stage fright. So you're in good company. I prefer to call it pre-presentation panic. But as Corporal Jones would put it: "Don't panic!" Again subdue the nerves by acknowledging them and use the nervous energy to rehearse. What's the old adage? Practice makes perfect.
Grow your confidence from a solid start
Even with practice you're going to feel nervous when it comes to the real thing.  And the bigger the audience the greater the fear. But enabling fear dissipates the moment you start your presentation. It's why in the planning phase you design and practice a simple start. One you know you can manage even with a few jitters. If, when I was reading the news, a producer had written a long or complex introduction to the lead story, one where even the sub clauses, the bane of simple speech, had sub clauses and it looked, with my shattered nerves, that I'd be unlikely to reach the full stop, that welcome little dot indicating the end of the sentence, without expiring, then – a bit like this convoluted nonsense richly deserves – I'd split the sentence into more manageable chunks. Tiny. Little. Bits. So take a deep breath…
Breath deeply
Our heart rate increases when we're scared. We breathe more quickly too and the breaths we take tend to be shallower. Although not always. Sometimes we forget to breath altogether. Which is kind of weird given that most of the time we don't have to think about breathing at all because it just comes naturally. So restore the natural order of things by taking ten deep breaths whenever you feel the panic rising and the heart quickening. In through the nose for at least three seconds. And out through the mouth for a similar count.  Stilling our bodies stills our minds. Stilling our minds stills our bodies. Circular breaths.
Speak slowly
When we're nervous we tend to speak more quickly. Which is understandable because the quicker we speak the sooner our presentation is over and we can relax. But although the instinct is right, the reaction is wrong. For two main reasons: that we may be speaking so quickly the audience can't keep up; and that we may trip over our words like Mr Spooner of Spoonerism fame who meant to raise a toast to the dear old Queen but instead raised a toast to the queer old dean.
Slowing down is easy to say but harder to do. I find concentrating on the pauses provided by the full stops and commas of speech a better way of slowing down. Pausing for effect….letting a point sink in…counting to five slowly in my head before moving on.
Focus on success
When we want something to be over with (like my visit to the dentist the other day) we tend to focus on the finish line. But like speaking too quickly, doing so can make us rush and more likely to trip over. Try focussing instead on the purpose of your presentation. This subtle shift can be transformative. Not achieved your purpose yet? Then don't sit down until you have. Achieved your purpose? Then sit down now. Purposeful presentations are very often shorter presentations.
Focussing on success can also help by putting our nerves into perspective. One of the best presentations I've ever seen was delivered by someone who, by her own admission, was extremely nervous beforehand. The young woman was raising money and awareness for stroke patients. Afterwards I asked how she'd managed her fear and she said: "By concentrating on the outcome and realising that my own fear was nothing compared to the suffering of the people  my speech was designed to help."  Wise words.
Feed off the audience
The audience is more supportive than you might imagine. They really don't want you to fail – except perhaps the few ruthlessly competitive inviduals who'd like your job at any price and might benefit from a stuff up on your part. Most people know from bitter personal experience what you're going through as you clear your throat ready to speak. Tune into and draw on this positive vibe or empathy. With a big audience it all adds up to a lot of people rooting for you. Your very own personal cheer leaders if you like – without the ra ra skirts and pom poms!
If the audience still feels like a huge, amorphous blob ready to gobble you up for breakfast, scan the crowd and try to find a friendly face or two. Maybe you met them over coffee ten minutes ago or you've known them a lifetime. Nodding acquaintance or bosum buddy, engage with these individuals eye-to-eye. Remember where they're sitting and return to them now and again when you feel the need. It's best in a big venue if you choose at least four friendly faces – back, front, left and right. Look in only one direction and you risk visually excluding everyone else. Incidentally, even though you may be looking at only four in a hundred faces the 96 other people think you're looking at them. It's all down to the physical properties of light and how waves propagate. Certainly way too complex to get into here so let's just call it an optical illusion. In a small venue, however, this "magic" doesn't work in your favour and it means trying to make eye contact with everyone. In the film Zulu the actor Michael Caine uttered the immortal line: "Don't shoot til you see the whites of their eyes." Your words are less likely to hit their target if you shoot your mouth off before you can see the whites of the audience's eyes. Not a lot of people know that.
Admit nothing
Whilst all of the above can help us deal with our nerves they never truly go away. And sometimes, mid presentation, they can come bounding out of the shadows and attack us when we least expect it. We feel the butterflies in our stomach stomping around in size 12 boots. We feel our hands going cold and our faces getting hot. But the operative word here is feel. Feelings are just that – felt. They're rarely manifested to the extent that the audience even notices them. And what the audience can't see can't hurt you. For example, don't apologise for losing your place or missing out a bit. The audience doesn't know you've lost your place or missed out a bit unless you've given them a script to follow beforehand – rarely a good idea.
Mind you it is possible to make the invisible visible. Tony Blair made the mistake of wearing a shirt that not only showed he was sweating but also became see through. It's hard to take anybody seriously when you can see their nipples. My own salutory lesson would have been even more chastening had it not been for some quick thinking. I was chairing an event one summer and decided on the Martin Bell look – a creamy coloured linen suit. But I hadn't reckoned on the faulty plumbing. Not mine I hasten to add even though the audience wouldn't have reached the same charitable conclusion. Nipping to the loo for a pre-presentation pee – another physiological response to fear – I was careful not to leave a tell tale splash only to be stymied at the hand-washing phase. Just a quarter turn of the hot tap unleashed a torrent of water with the force of an Icelandic geyser. Up the basin and down the trousers in a pattern for which there could be only two explanations – neither of them relishing. Accusations of a bad aim or incontinence were narrowly avoided by whipping off the offending trousers, soaking them in the washbasin, wringing them out and putting them back on. Fashionably and visibly crumpled and universally but invisibly damp. The moral of these stories? Stop sweating. And don't go to the toilet. Or, more feasibly, choose your suits, shirts and blouses carefully.
Share the load
A problem solved is a problem halved, or so the saying goes. There's a presentational equivalent: a speech shared is a speech halved. In the world of broadcast news and current affairs the busiest shows are very often double headed – that is, there are two presenters. It's not just done for cosmetic reasons. It's also because fast-paced and quick-changing programmes can be too much of a challenge for one presenter. And in the same way long or complex presentations can be too much for one speaker. So why not double head them? Buddy up with a colleague. Share the load. Half the nerves.
You can listen to Richard Uridge's five minute masterclass on dealing with nerves by visiting the Masterclass section of the ACM Training website or you can listen here.
Podcast: Play in new window | Download (Duration: 5:38 — 4.9MB)
Subscribe: Google Podcasts | Email | RSS | More
---