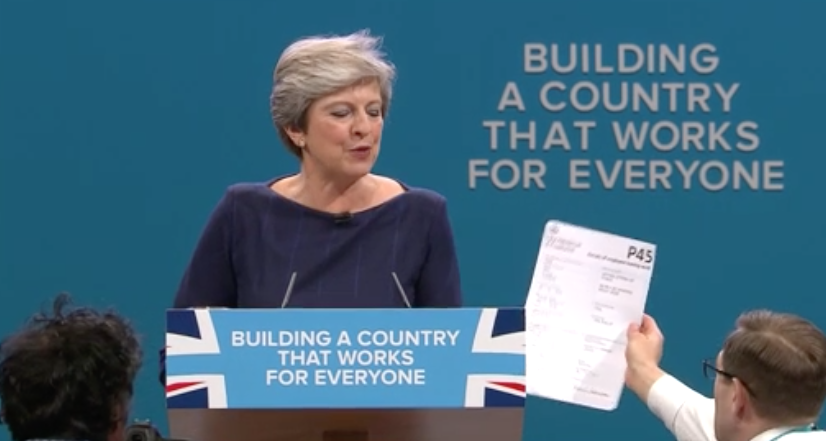 Approx. reading time:
5
minutes
The Prime Minister would've been hoping the Heckler and Kochs were all safely in the arms of the police officers outside the Tory Party conference here in Manchester. Little did she suspect there would be a heckler and cock on the inside, armed with nothing more than a piece of paper. But in the right hands (or the wrong hands depending on your political perspective) a P45 can be every bit as lethal as an MP5 – particularly if the victim has already been wounded by blue-on-blue "friendly" fire from within the ranks. Step forward Lieutenant Johnson and Lance Corporal Rees-Mogg.
That the comedy Spetsnaz hiding in plain sight among the party faithful didn't finish off the PM is testament to her presentorial (I made up that word) fortitude. After all, here was a speaker who also had to grapple with two additional enemies. The first biological: a sore throat. The second mechanical: an adhesive failure (or perhaps that should read ailure) when the f in the slogan behind her – building a country that works for everyone – came unstuck along with an e. Not great boss shtik. Or Bostik.
This scenery fail was, of course, a gift for the political commentators who were bound to see it as some kind of grand, unifying metaphor for the state of Theresa May's rapidly disintegrating authority. But those seeking to bury her bits should remember the old adage "ne'r cast a clout til May is out." And, by the end of her speech, May was down, yes, but by no means out.
At the risk of mixing metaphors, watching her performance put me in mind of those old nature programmes on the telly when I was a kid, except I don't remember ever seeing the wildebeest get up and walk away after being dragged to the ground by a pack of hungry hyenas.
Now I don't seek to make or score any political points here, but merely to suggest how those of us who have to present to audiences for a living might learn from May's extraordinary recovery against the odds. It's possible, of course, that she's sustained mortal injuries and will succumb to them in due course. But as I write this in my hotel room overlooking the conference venue, where the security fences are being noisily dismantled, she's still with us. The devil dogs have slunk into the shadows more usually occupied by the rough sleepers who, in turn, have been forced temporarily to seek out the even deeper shade in the streets and towpaths and underpasses the police consider a "safe" distance away.
So in this blog post I'll suggest how you might deal with hecklers. And in subsequent posts I'll write about sticky throats and less-than-sticky scenery.
HECKLERS
There are four main ways of dealing with those intent on interrupting our presentations. The first is what I call a pre-heckle preemptive manoeuvre – grandiloquent eh?! The other three are post-heckle tactics, or what I like to foreshorten to "hectics" because that's what they can feel like.
Stop them getting in.
Ignore them.
Tackle them (physically not intellectually).
Tackle them (intellectually not physically).
Stopping them getting in in the first place is nigh on impossible. It's hard to imagine a presentation with tighter security than for a sitting Prime Minister at a party conference. Yet even with a carefully vetted guest list Simon Brodkin aka Lee Nelson managed to get through. So by all means hope for the best and plan for the worst…
That plan should include whether you should ignore them and (a) hope they'll give up/go away or (b) be escorted swiftly from the premises by your burly security detail. Now I don't know about your presentations, but if you're much further down the pecking order than, say, the PM or even the BBC's political editor, Laura Kuenssberg, you're unlikely to have such a, I was going to say luxury but, sadly, I should probably say necessity.
Both options – ignoring and physically tackling hecklers – are potentially problematic for your presentation. Bitter experience has shown me that while initially an interruption may barely disrupt proceedings when ignored hecklers usually get louder and louder until they can be ignored no longer. Best intervene on your terms rather than theirs.
So what should that intervention be? The physical tackle is best left to the rugby field (unless, of course, there is an immediate physical threat to your health and safety and that of your audience). The audience may forgive the physical nature of the response if it's perceived to be proportionate to the threat. But if the threat isn't physical or the response is disproportionate then the audience might change allegiance and see you as the oppressor and the aggressor as the victim. Whether seen live by your delegates or later by a wider audience via TV and the Internet, images of hecklers being man-handled (and it usually is man-handled) out of the building are rarely pretty. We instinctively back the little fella in the David vs Goliath scene we're inadvertently producing.
All of which leaves us with the intellectual tackle, in its own way as hard to properly execute as the physical version but done well more effective. Doing it well means first of all pausing your presentation and acknowledging the interruption – ideally with a smile and especially with a smile if the heckle's funny (to the audience that is – you'll be struggling too see the funny side at the time)!  It's amazing how often even the acknowledgment and smile can calm or wrong foot the heckler who would otherwise feed off your discomfort.
If it's needed, the next step is the critical one and if it was a dance move it'd impress Len Goodman. In a few words it's to deal with the heckle not the heckler. In many words it's to placate not to exacerbate, to reason not argue. It's a routine best done calmly. Slow      down      your      natural      delivery     pace    and    markedly    so. Speak more quietly than usual. Resist the temptation to speed up, rush things or get louder. Humour can work, if it's self deprecating. May held up a throat lozenge handed to her by Philip Hammond and declared "look, a free gift from the Chancellor!" And it's to her credit that she was able to turn defence into attack and redirect the spoof P45 towards her usual arch nemesis, the Leader of the Opposition. But humour can fail if it's at the expense of the heckler.  They may become more not less disruptive or the audience may feel your humour is too cutting and the heckler's once again an Old Testament David and you're the cudgel-swinging oaf.
Asking questions of the heckler may seem time-consuming but can help you and the audience understand what exactly are their concerns. Once revealed those concerns can then be addressed – the underlying causes if you like rather than just the symptoms. If you discover that the heckler has a point then maybe you could concede some ground. Theresa may have said (but didn't) "for those of us in uncertain jobs the P45 isn't a welcome sight but thanks for reminding me all the same I'll keep it to hand" and then, with a magician's flourish, folded it into her pocket and resumed her script. It's certainly a refreshing approach and can again wrong-foot all but the most determined heckler. I'd concede it takes both quick wits and steel nerves but I find that many sources of interruption can be anticipated and rehearsed so that you appear super smart and super cool only because you've practised.  And as you know, practise makes perfect.
---
If you'd like to practise dealing with hecklers in highly realistic training sessions then Richard Uridge and ACM Training offers just that for a whole lot less than senior politicians pay their armies of choreographers, script writers, voice coaches and colour consultants. Click here to send us an email outlining your worst presentational nightmares and we'll do our level best to show you how to turn them into sweet dreams.
Next time. Not to be sneezed at: how to deal with coughs, colds and sore throats.
In the meantime here's a good comparison of Obama and Trump dealing heckles. Which do you think  is more presidential?
---