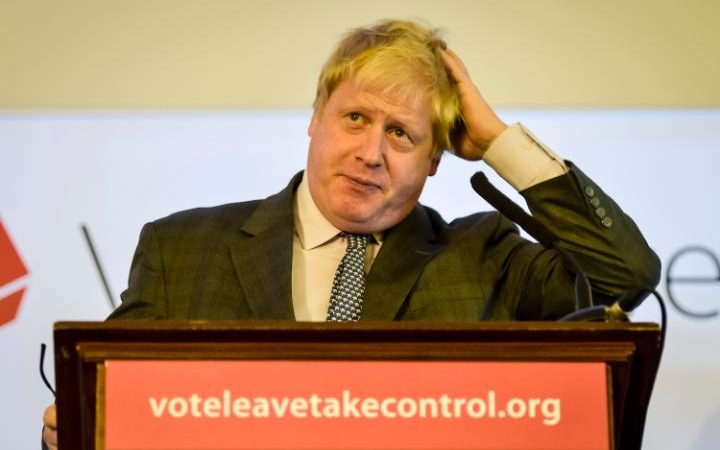 Approx. reading time:
3
minutes
I promised myself I wouldn't write about the EU referendum here. But then so many people (for which, read politicians) seem to be going back on their words left, right and centre that one more little broken promise won't matter surely?
Actually I don't want to comment on the politics at all. Or reflect on the outcome. More than enough has already been said on those fronts. But as a student of public speaking and as a presentation skills trainer I believe that the contrasting styles of Remain and Leave did influence the result. To what extent I guess we'll never know although it's worth adding that in a close contest the side with the better lines and the better delivery can and often does end up winning as a consequence.
It doesn't really matter whether you're selling England down the river, dodgy DVDs down the market, or a proposition to colleagues down the corridor, your "patter" must conform to what I call the Four Cs. It must be: clear; concise; catchy; and strike a chord with the audience.
So with that in mind let's explore the political patter.
"Let's make tomorrow our Independence Day."
Nigel Farage's call to action is undoubtedly clear, concise and catchy. The fourth measure, of course, depends on your point of view. But on the first three alone it trumps the Remain refrain.
"We are stronger, better off and safer in Europe than we would be out on our own."
Again, whether it strikes a chord depends on your point of view.  But putting that aside, what the two quotes boil down to is Independence (leave) versus Interdependence (stay). Now we're more familiar with the word independence. And its face value is probably higher too. We seek financial independence.  As teenagers we can't wait to leave home and become independent (even if not immediately financially so). At the other end of life we fight to keep that independence for as long as possible. By comparison the word interdependence is weaker and, therefore, harder to promote. The irony here is that our treasured independence is illusory. Take the notion of financial independence. Unless I keep my fortune under the mattress my security depends largely on external factors, as anyone who's lost money on the financial markets in the turmoil that's followed Brexit will tell you. Indeed, even under the mattress, my financial independence exists only in so far as it doesn't get stolen. I'm depending on burglars not reading this, the alarm company, that nosey lady at number 23 who's in Neighbourhood Watch, the police, the law…oh and the bloody great Rotweiller that has a free run of the house when we're out.
A better presentational strategy for Remain might have been to subvert the familiar phrase and quote it back at their opponents and, by extension, the wider audience – you and me.
"They say 'let's make tomorrow our Independence Day.' I say there's no such thing. We all depend on others. Children on their parents. Grandparents on their children. All the way up to nations on their neighbours. For our safety. For our security. For our jobs. For our families. Let's make tomorrow our Interdependence Day."
Okay, I accept it might need a bit of a polish (although less if you read it in a stirring Churchillian voice) but it's certainly better than some of what I heard which, paraphrased, amounted to: "The EU is a bit shit to tell you the truth. But we can make it a little bit less shit. And it'll be a lot shittier if we leave.Trust me, I'm a politician." Actually I made that last bit up but you get my drift.
It seems like VoteLeave had all the good lines. Here's another one:
"Let's put the Great back in Great Britain."
So powerfully did this key message tug at the heartstrings of a certain demographic that I heard it being repeated in conversations. Something that strikes a chord (the fourth of the four Cs) resonates. And if that chord is still resonating when people enter the polling booth then there's a chance that their pen (not the pencil provided) will dance to its tune.
"Stronger together" was as close as Remain were able to get. But I'd argue, semantically, that given a choice most people would prefer to be great than strong. In other words, being strong is only good if it makes you great.
So what does all this mean for those of us who present not on a national or international political stage, but in more modest meeting rooms and conference halls? It means being clear about what you need to say. It means saying it as concisely as possible. Make your key messages and calls to action catchy by choosing your words carefully and putting those words in the right order. And, although it's not always possible (especially if your audience doesn't like you or what you're saying) try to strike a chord.
Over the next few months I'll be exploring the impact that personality has on presentation through the lens of the referendum. Was it, for example, the undeniably colourful (yes I think that's the right word) characters like Boris Johnson and Nigel Farage wot won it for Brexit?
My next presentation skills course in London on July 5th is sold out but there are still places available in London on September 6th and December 8th and in Manchester on September 14th. You can book here.