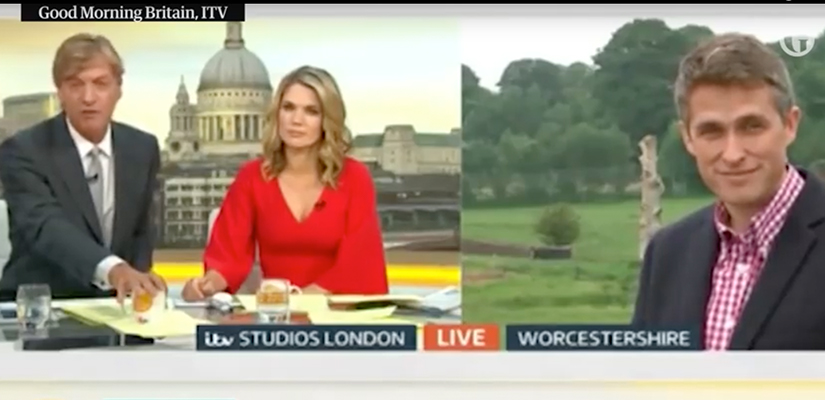 Approx. reading time:
3
minutes
I could almost hear Jeremy Paxman and Michael Howard breathing a huge sigh of collective relief. For years their Newsnight clash – the one where Paxo asked the former Home Secretary n times (where n is a large number) if he'd intervened in the day-to-day running of the prison service – had, for media trainers, been the go-to example of road crash interviews. But now we've got a new worst case scenario – the recent, well-publicised spat between the Defence Secretary, Gavin Williamson, and the stand-in Good Morning Britain presenter, Richard Madeley. If you haven't seen it yet I'd thoroughly recommend a watch.
It's certainly entertaining. In a lemon-chewingly embarrassing way. But don't worry if you haven't got time because, in essence, Madeley called the interview to an unexpectedly early end when Williamson used the politicians' trick of ignoring the questions and saying what the heck he wanted to say. Which is a pity because the Secretary of State was supposed to be talking about deploying British troops to help protect wildlife against poachers in Malawi – a good news story if ever there was one – but didn't get beyond the preamble. Heck, he'd even gone to the trouble of doing the interview by satellite from West Midlands Safari Park.
So does this mean that media trainers like me will have to change our approach? Not at all! At ACM Training we teach interviewees to deal with the question and move on. But we always impress upon them the importance of striking the right balance between the two. Move on too fast or fail to deal with the question altogether and you risk what happened to Williamson happening to you.
"Let it be a warning! Us journalists used to say you'd been Paxo'd but I guess now we'll have to learn to say you've been Madeley'd!"
No time to read this post and prefer to listen – with the added bonus of audio clips from the excruciating interview?
Podcast: Play in new window | Download (Duration: 5:19 — 3.8MB)
Subscribe: Google Podcasts | Email | RSS | More
For a Defence Secretary, I thought Williamson was surprisingly tactically un-astute. Adversarial media interviews are (in very limited respects) analogous with battles. In both, if you try to defend disputed territory you can get bogged down, when it might be better to concede some ground and pull back to a line you can hold.
So first let's explore what went wrong in MoD vs GMB. Madeley's attack was to accuse Williamson of using Trump-like language. Williamson's defence was to simply ignore this line of questioning and try to move on to how terrible the attempted murders of the Skripals had been and how wonderfully the emergency services in Salisbury had responded. But the Defence Secretary wasn't able to move on to these, nonetheless valid, points because Madeley wasn't satisfied he'd dealt with the question – repeatedly asked – well enough.
Now let's examine the alternative. If I was Gavin Williamson's media advisor I'd have prepared him on the basis that the Trump question was (a) wholly predictable and (b) entirely legitimate for a journalist to ask on the public's behalf. I'd have told him that legitimate questions can't simply be ignored because to do so risks antagonising the journalist and her/his audience. And, as a consequence, I'd have suggested he spend a little more time dealing with the question and a little less time moving on. If he asked what all that meant practically speaking I'd have come up with a few concede lines.
Williamson: "It's certainly not the kind of language you usually hear from ministers I'll give you that. But sometimes you have to be plain and forthright to make sure your message gets through to the intended target."
Madeley: "So you're admitting it was Trump-like language?!"
Williamson: "I'm saying that it's important to be absolutely clear that attacking members of the public on British soil is unacceptable and making that point in a plain and forthright way is occasionally better than couching these things in the usual diplomatic terms."
Madeley: "Sounds like you're admitting to being undiplomatic."
Williamson: "I'm admitting to being plain and forthright and, yes, angry too, because two innocent members of the public had been attacked in a cruel and unusual way and countless others – those who went to their rescue – put at risk."
Now, of course, I'll concede there's no guarantee that this approach would have worked but I'm convinced it would have given the Defence Secretary a better chance of moving onto Malawi. As it was he had no chance at all because the interview was called to a premature and unceremonious end.
Remember this: you can only move on if you deal adequately with the question asked. To deal adequately with doesn't have to mean to answer (although it can). Think of interviews as question and response session,s rather than question and answer sessions. Tailor your response not only according to your own needs but also to those of the interviewer and audience. Williamson was never going to admit to using Trump-like language (and nor, given Trump's track record, should he have). But without conceding a little he gave away a lot.
---
This is a partial transcript of Richard's five minute masterclass on the lessons of Williamson v Madeley. Click here if you want to hear the whole recording and listen to our other five minute masterclasses.